Helsinki Info
Helsinki, the capital of the Republic of Finland, is a modern city with over half a million residents and is situated on the Baltic Sea. The archipelago that surrounds Helsinki with hundreds of tiny islands creates an idyllic environment for cruises, for example. Helsinki together with the neighbouring cities of Espoo, Kauniainen and Vantaa forms the Helsinki metropolitan area with more than a million inhabitants.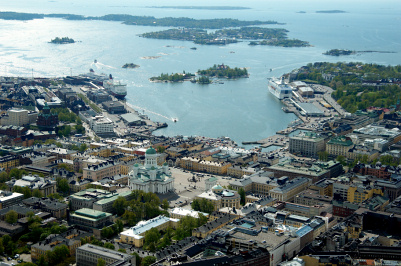 Helsinki is unique among Northern European cities and the second-most northern capital city in the world. Helsinki's identity has been formed by cultural influences from both the East and West. Over 450 years of history, several architectural layers and the impact of different periods can be clearly seen in Helsinki. Eastern and western influences from the past can be seen everywhere, in the city's architecture, culinary culture and events. Helsinki has also established a strong position as an essential cruise destination in the Baltic Sea and a world-class congress city.
Finnish design has also made the country's capital city world famous. The International Council of Societies of Industrial Design designated Helsinki as the World Design Capital for the year 2012 and a wide range of events and projects related to design and its manifestations are to be arranged.
In 2012 Helsinki will also celebrate the 200th anniversary of becoming the capital of Finland, when the country was a grand duchy of the Russian Empire.
Read more, Helsinki city official tourism website