CAMERA-READY COPY
FORMATTING SPECIFICATIONS FOR CONTRIBUTORS
Only papers prepared according to these specifications can be accepted for publication. Papers submitted in an unsuitable format will be returned to the author for retyping/correction. The camera-ready copy (CRC) you submit will be reproduced directly by the offset process.

TYPE SIZE, TYPE AREA, LINE SPACING
• Text and illustrations should fill, but not extend beyond, an area of 118 x 192mm.
• Use a 10-point font size with line spacing of 2pts (see specimen page).
• Use a Times typeface
• Text should be justified on both left and right margins, not ragged.
• Please do not type page numbers on the CRC - please number the pages in pencil on
the back of each page.
• Do not use running heads.
• If page depth is too short, add space above and below subheadings.
Please keep a complete photocopy of your paper in case of accidents or production queries.

PAGE LAYOUT
Please refer to the attached specimen page when producing your CRC. This page has been produced using Word for Windows v6.0. If you plan to prepare your text using LaTeX, Springer-Verlag can provide a style file which is available through your Volume Editor.
Click here for Instructions for LaTeX Style Files

ABSTRACTS, PARAGRAPHS, FOOTNOTES
See specimen page for style and layout.

SUBHEADINGS
Headings should be capitalized (i.e. all words, except prepositions and conjunctions with less than five letters, should have a capital initial) and should, with the exception of the title, be aligned to the left. The font sizes are:
N.B. Do not type a new heading on a page unless there is space for at least two lines of text as well. Insert extra space above other headings or round tables and illustrations in order to space out the page to a depth of 192mm.

ILLUSTRATIONS
• Line Drawings
Ensure you supply a clear, well-drawn original - not a sketch or a photocopy. Line drawings must be positioned on the CRC, centred on the type width. Labelling should not be set smaller than 8pt.

• Halftones
If previously agreed with Springer, halftone illustrations (black and white photos) may be included in your CRC. Please supply high-contrast glossy prints (unscreened). Write your name and the figure number on a label on the back of each illustration, marking the top of the illustration with an arrow so it can be positioned correctly. Then leave the correct space on your CRC for it to be dropped in by the printer.

• Captions
Figures should be numbered, e.g. Figure 1, Figure 2, etc. The caption should be positioned underneath the illustration and separated from it by one blank line. Captions may be set slightly smaller than the main text (i.e. 9pt).

REFERENCES
Please follow the reference style shown in the Appendix unless instructed otherwise by your Volume Editor. References may be set slightly smaller than the main text (i.e. 9pt).
Bear in mind the following general points:
• The information must be accurate - check references against source.
• The information must be sufficient to locate the reference.
• The text citations and the reference list must tally.

USE OF COPYRIGHT MATERIAL
Permission must be sought from the copyright holder to reproduce previously published material. A standard form for this purpose is attached. Completed forms must be submitted with your CRC.

CHECKING, CORRECTING AND PRINTING
Check a draft-quality print-out carefully - do not print the final version until you are certain there are no further corrections.
The finished CRC must be checked carefully.
When printing the final CRC, please note the following:
• Print on one side only.
• The print on the final CRC should be black and well-defined. Do not use a bold
typeface except to highlight certain words or terms. The output should not be
"patchy" or have any broken fonts.
• Please use a high-resolution printer, preferably a laser printer with at least 300dpi.

DESPATCHING
Place the CRC, together with any separate material such as halftone illustrations, between two pieces of strong cardboard, wrap it carefully and send it to your Volume Editor by registered mail or by some other secure method.
_________________________________________________________________________
If you are uncertain about any points or have any other queries, please contact your Volume Editor.
---
SPRINGER PAGE GRID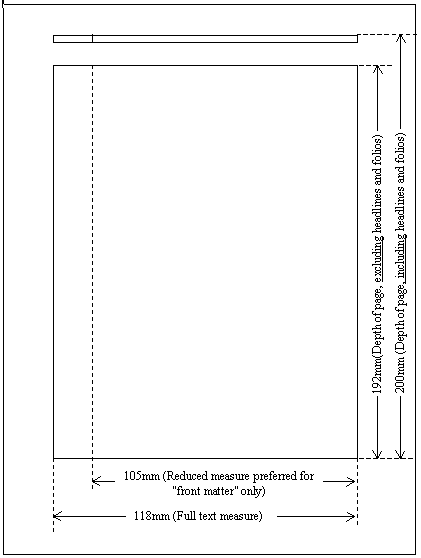 ---
This is an Example of a Title with only
the Main Words in Capitals
Author
Institute or Department (optional), University or College,
City and Country
Abstract
Here is the text of the abstract, if there is one. If there is no abstract there should
be a space here equivalent to three lines.
1. Introduction (example of 2nd-level heading)
The rapid expansion in wide area and local area networking has led to the establishment of a global internetwork linking millions of systems [1]. Through this network a limited range of basic network functions are available.
1.1 Prevention of Virus Attack (example of a 3rd-level heading)
Viral infection can be prevented by controlling the ingress of viral material into the controlled environment which represents the company computers.
Such environments can be broad, encompassing the entire company (including PCs removed by the user for home working), or restricted, covering a minimal range of PCs in a controlled access and closely supervised area [2].
1.1.1 Physical Access Constraints (example of a 4th-level heading)
The most effective way to prevent viral code spreading is to isolate systems physically and electronically, then to control the movement of viral code*.
Viral Infection. This is a 5th-level heading, indicated by a line space above with the heading in normal type, not indented. The text runs on in normal roman type.
References
1. Mehlhorn K. Data structures and algorithms, vol 1, Sorting and searching. Springer Berlin Heidelberg New York, 1984
2. de Kleer J. An assumption-based TMS. Artificial Intelligence 1986; 28:127-162
---
APPENDIX. REFERENCES IN COMPUTING BOOKS
Text Citations
Number references consecutively in the order in which they are first mentioned in the text. References cited only in a table or figure legend should be numbered as though they were cited in the first text cross-reference to the relevant table or figure.
Identify references in the text, tables and figure legends by arabic numerals in square brackets (e.g. "... as has been demonstrated recently [19].").
Reference List
List the references in numerical order.
If a work has more than six authors, list only the first three, followed by "et al.".
The following styles are used for the main categories of references. Journal titles are abbreviated in accordance with BS 4148 (1970, 1975), which is compatible with ISO 833 and ANSI Z39.5 (1969).

Journal article

1. de Kleer J. An assumption-based TMS. Artif Intell 1986; 28:127-162

Book

2. Mehlhorn K. Data structures and algorithms, vol 1, Sorting and searching. Springer-Verlag, London, 1984

3. Mellish CS. Computer interpretation of natural language descriptions. Ellis Horwood, Chichester, 1985

Chapter in a book (or paper in a proceedings)

4. Quint V, Valton I, Bedor H. Grif: an interactive environment for TEX. In: Desarmenien J (ed) TEX for scientific documentation. Springer-Verlag, Heidelberg, 1986, pp 145-158 (Lecture notes in computer science no. 236)

Thesis

5. Fagin BS. A parallel execution model for Prolog. PhD thesis, University of California, Berkeley, 1987